news
05.10.2016

Four upcoming CEDR events in October/November 2016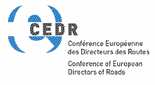 Events to focus on four end of CEDR programmes
October 12, Brussels, Belgium: Successfully implementing an ISO55000 asset system to manage your road network
The ARISE project, under Call 2014 Asset Management and Maintenance, will provide a practical guide for NRAs to implementing an ISO 55000 asset management system successfully, based on learning from both road and other sectors.
Registration available here -
http://www.cedr.eu/event/call-2014-asset-management-arise-project-workshop/
Further information in document attached below.
October 25, Dublin, Ireland: Call 2013 Traffic Management End of Programme Event
Through Call 2013 Traffic Management, CEDR members have funded research supporting implementation of innovation in traffic management solutions. The programme meets the research needs of European road authorities in three key areas:
• Incident Management: analysis of the risks and costs of handling incidents
• Implementation of innovation: development of usable solutions
• Human factors: investigation of human factors in order to achieve high compliance rates for traffic measures
Further information in document attached below.
November 7-8, Cologne, Germany: CEDR Research workshop on Roads and Wildlife
This end-of-programme event will present the results of the three research projects funded under CEDR Call 2013 Roads and Wildlife: SAFEROAD, HARMONY and SafeBatPaths. These projects have developed recommendations for minimizing the effects of roads on wildlife, while optimizing the effectiveness of existing and newly developed mitigation measures. The workshop will present the projects' findings and recommendations, including a Handbook on Roads and Wildlife intended to complement the existing COST 341 Handbook.
Further information in document attached below.
November 10, Belgian Road Research Centre, Sterrebeek (close to Brussels), Belgium: Energy Efficient Materials and Technologies for Durable and Sustainable Roads
This will present the results of Call 2013 Energy Efficiency. The projects under this programme are:
CONSISTEND: "Improved quality control to produce durable and sustainable roads"
EDGAR: "Methodology to evaluate sustainability of asphalt roads"
FUNDBITS: "Fundamental test methods for durable and sustainable roads"
Registration and further information available at http://brrc.be/en/cedr.
Further information in document attached below.
Files:
·
CEDR Call 2014 project workshop - Successfully implementing an ISO55000 asset system to manage your road network.pdf
·
Call 2013 Traffic Management End of Programme Event.pdf
·
CEDR Call 2013 Roads and Wildlife end-of-programme event.pdf
·
Invitation to CEDR Research Event November 10 2016- Energy Efficient Materials and Technologies for Durable and Sustainable Roads.pdf
Comments: Four upcoming CEDR events in October/November 2016