news
06.02.2017

DeTECToR project workshop to be held on 4th April in Brussels prior to FIRM17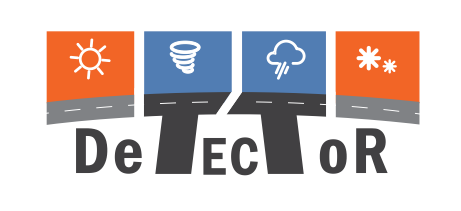 Survey also to be completed by road operators to help understand status of climate change
FEHRL members TRL, IBDiM and AIT together with AC, HI and CEC are partners in a new CEDR project called DeTECToR (Decision-support Tools for Embedding Climate change Thinking on Roads) http://detector.trl.co.uk/. The two-year project is developing tools and guidance specifically designed to help road operators integrate consideration of climate change in two key areas - economic appraisal and procurement processes.
In order to tailor the tools and guidance to meet the needs of European road operators the DeTECToR consortium are seeking stakeholder input through a project workshop. Participants will discuss the types of information and guidance needed to make informed decisions on climate change and embed this in operations and procurement processes. The workshop has been arranged for 4th April in Brussels to align with the FEHRL Infrastructure Research Meeting 2017 (FIRM17) – enabling participants to attend both events.
The DeTECToR consortium has also developed a short online survey for road operators to help them better understand the existing status of the embedment of climate change in different countries and where the priorities lay. This can be accessed at https://goo.gl/forms/8UuFD5lEBLUgEWxy1.
The survey is aimed primarily at staff working within national road administrations in areas such asset management and procurement, although information from contractors and researchers would also be valuable. The questions should take no more than 10 minutes to complete and the information provided will be used to help plan the functions and formats of the tools and guidance produced by the project.
For more information about the project or to register for the workshop click on the attachment below or contact the DeTECToR Coordinator Dr Sarah Reeves (sreeves@trl.co.uk).
Files:
·
DeTECToR Workshop_Save the date.pdf
Comments: DeTECToR project workshop to be held on 4th April in Brussels prior to FIRM17