SIMBA II Workshop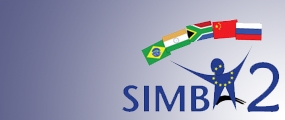 CLICK HERE FOR Presentations of the workshop in English in Russian
The SIMBA II project was a Coordination and Support Action (CSA) in the Seventh EU Framework Programme and aimed at increasing RTD cooperation between the EU and the ICPC (International Cooperation Partner Countries) of Brazil, China, India, Russia and South Africa in the field of ITS and road infrastructure.
SIMBA II looked at how the EU and the ICPC can jointly increase road safety, mobility and transport network management and research appropriate pavement design while at the same time improving levels of transport–related pollution. This enabled SIMBA II to support these countries in their efforts to improve transportation while at the same time enhancing European industrial competitiveness via transfer of technologies. Special attention was given to mobility and road management, urban traffic issues and public transport in order to better assess and evaluate the development of new infrastructure.
One of the first activities in the EU-Russia cooperation, in the infrastructure part, was the organization of a workshop in Moscow. The workshop jointly organized by the Forum of European National Highway Research Laboratories (FEHRL) and the Russian Professional Association in Vehicle Prevention (PAIRP) took place in Moscow on the 28th of November, 2008. It will bring together European and Russian experts in the field of road infrastructure to work in cooperation and research activities. Russian and EU Stakeholders used this workshop to discuss priorities research areas and identify themes suitable for international cooperation.
The two day event included a visit to the Russian Federal Program for road safety and to the Moscow Automobile and Road Technical University (MADI). Speakers on the Programme included Boris Tsiklis (general director of the Federal State Department), Prof. Valentin Silyanov (MADI), Robin Sebille (Moscow Economic Mission, French Embassy), Steve Phillips (FEHRL) and Vladmir Kruchkov , the Coordinator of SIMBA II in Russia.